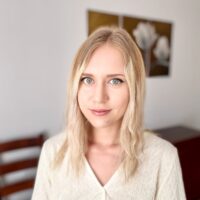 Storm
Native speaker
Nasza native speaker , koordynator warsztatów " train your speaking english" dla wszystkich naszych kursantów.
Hi everyone, my name is Storm and I'm a native speaker from South Africa.
In 2018 I moved to China where I was an English teacher to students aged from as young as 2.5 all the way up to adults. After living in China and teaching students a second language, I fell in love with teaching English and being called an 'expat'.
Earlier this year (2021) I moved from China to Poland and have since fallen in love with the language and beautiful cities.
As I always say, I couldn't see myself doing any other job, teaching is my passion. I love being a part of students' language journeys and will always do so with a smile and a silly joke.
My favourite part of teaching is being able to see young minds develop and experience the joy of being able to communicate better in a second language.
I'll leave you with my favourite quote from Nelson Mandela: "A winner is a dreamer who never gives up". I live and teach by this.